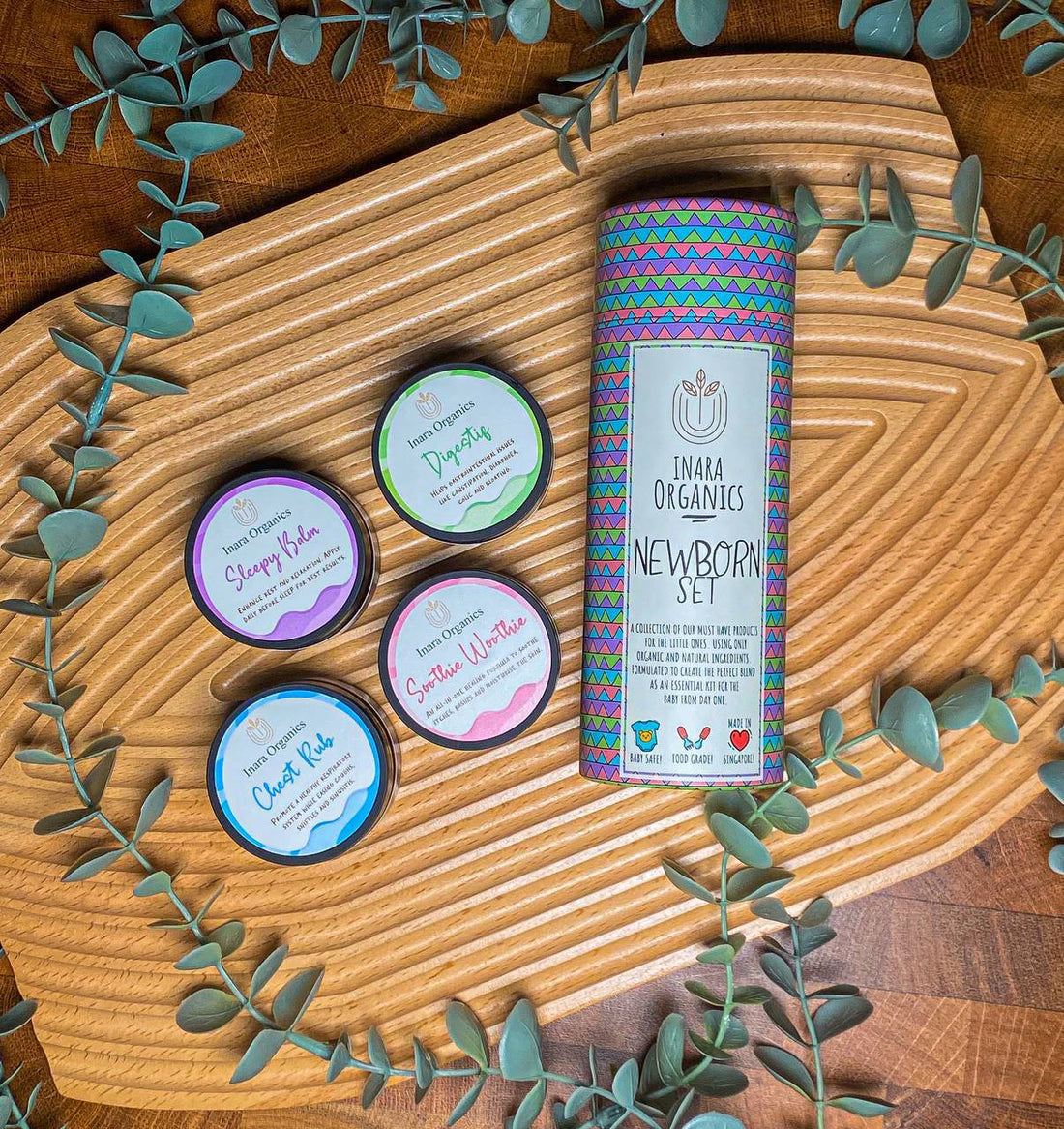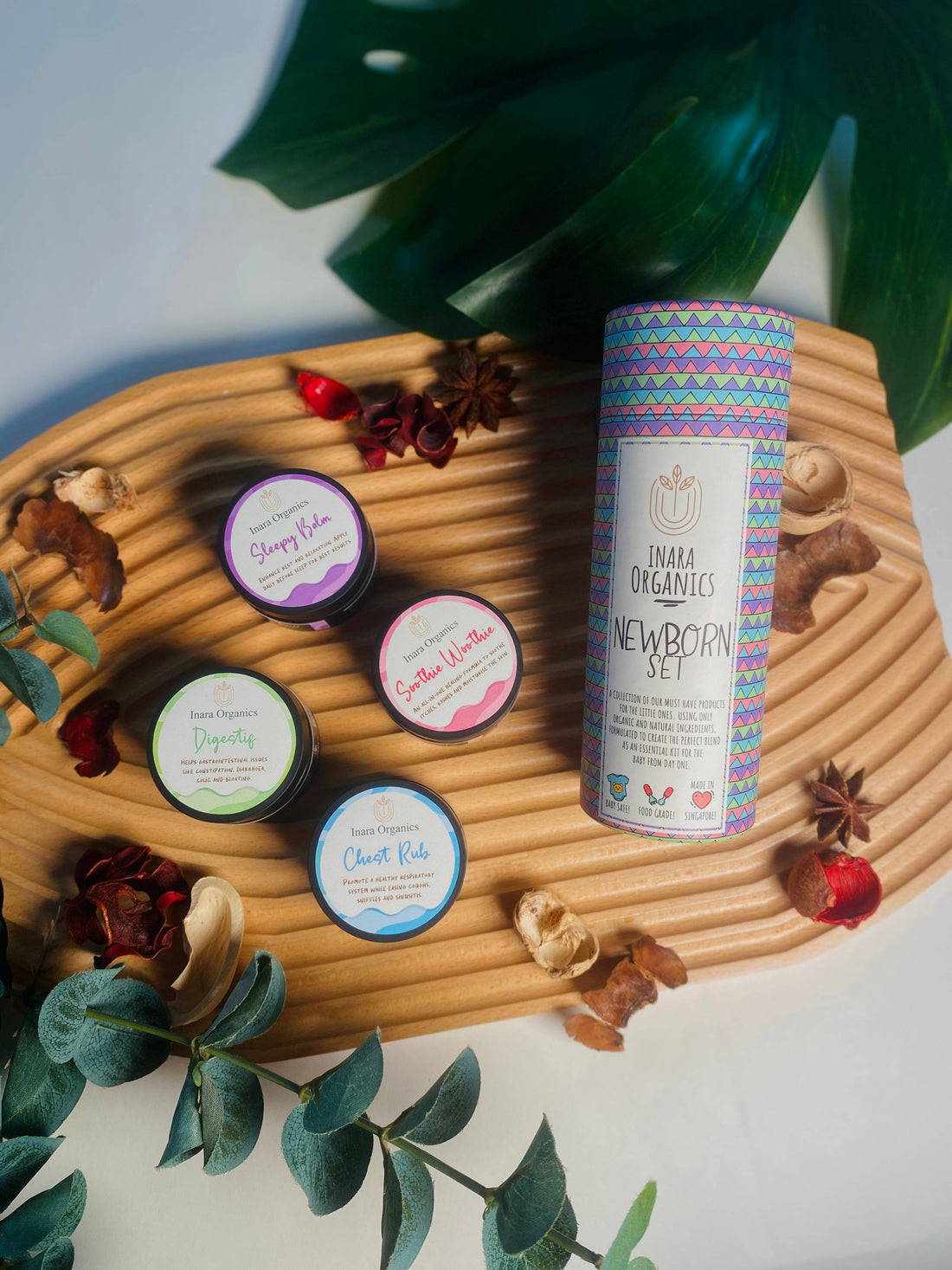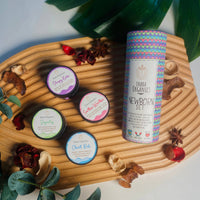 *Images are for illustration purposes. Actual products may vary in appearance.
The
Newborn Set
is a bundle of our four best-selling balms. Whether it's a gift for your expecting friend or a starter set for your little bundle of joy, we have you covered.

If this is a gift for your loved ones, do leave a note upon checkout — we can exclude the invoice and even handwrite on a gift card any special message you'd like to convey to the recipient. 
✧
Soothie Woothie (30ml) 
- Excellent as a daily moisturiser, especially
when newborns experience dry skin during their first few weeks of life. The balm is also very effective for cradle cap care and nappy rash.
 Apply onto
affected areas or use as an all-over body moisturiser. If you are using it as a diaper ointment, use a cotton bud to scoop out the balm to avoid cross-contamination. It is also excellent for cracked nipples and mastitis. All balms are food-grade safe, but you may wish to wipe off the excess balm with a tissue prior to feeds.
✧ Sleepy Balm (30ml)
- Excellent for calming baby down
and stimulating sleep.
Using this balm in Mommy and baby's nightly routine can help promote a good night's rest.
Apply at the base of the skull, temples, forehead, back and chest for targeted areas or use for a whole-body massage. Apply 30 minutes before feeds or any desired sleeping time.
✧ Digestif (30ml) 
-
Excellent for babies experiencing constipation, colic, diarrhea or other gastrointestinal problems. It
can be used daily to promote healthy bowel movements. Apply it on the belly at every diaper change and massage in a clockwise motion. Apply hourly for colicky babies. If your baby has jaundice, please apply it to their belly three times a day. It is also beneficial for Mommy to apply on herself regularly after giving birth when passing motion may be difficult.


✧ Chest Rub (30ml) - Excellent for prevention and relief from runny nose, congestion, flu, sinus and cough, especially when there will be plenty of visitors coming to see your newborn baby. For healthy lung support, apply twice a day onto your little one's chest, back, and soles of feet. Use hourly when your child is unwell. For sinus relief, you may apply it directly along the nose bridge.
Results may vary.
Safe for all ages. We highly recommend conducting a skin patch test on your child to check for any sensitivities or allergies before applying our product liberally. It's important to note that our product is not intended to diagnose, treat, cure, or prevent any diseases. While our carefully crafted formulation is designed to provide support and relief, it's always advisable to consult with a healthcare professional for specific medical concerns or conditions.
Please see product description, or on the respective product pages
Perfect as a gift for an expecting couple or for yourself to stock up on our bestsellers!